Starbucks has announced it's opening a controversial new outpost – in an ancient Japanese tea house.
The American coffee giant is opening an outlet in Kyoto's historic Higashiyama district on 30 June, refitting a former Japanese teahouse on Ninenzaka, a pedestrianised street that leads to Kiyomizudera Temple.
Built more than 100 years ago, the two-storey teahouse went out of business in 2005, and the building was bought by a taxi company.
But the property is in a conservation area, sparking concerns about how the US company will fit in. Starbucks, in turn, has released information detailing its plans to convert it in a sympathetic way.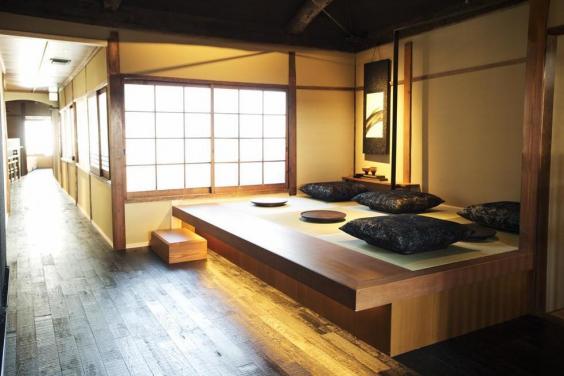 The second floor has three tatami mat seating areas (Starbucks)
The exterior of the coffee shop will not feature a standard Starbucks sign. Instead the wooden structure has a dark blue noren – a Japanese fabric divider hung in doorways – with the Starbucks logo in black on the front. Inside the store, the ground floor will be decorated in warm wood with an illuminated bar where customers order their drinks. The airy space will have floor-to-ceiling windows with views into a private garden.
Sticking to the rules of traditional teahouses, shoes will have to be removed before you can head up to the second-floor seating area with your drinks. Customers can sit on tatami mat floors with zabuton seating cushions, covered with Kyoto's famous crepe fabric. Hana toro paper lanterns and screen prints decorate the space.
Those after a more American Starbucks experience can choose to sit on tables and chairs. There will, of course, be free WiFi. 
Kyoto has a number of Starbucks branches, and while many are designed in the identikit green and beige scheme, the company has shown a desire to modify its aesthetic to fit with the city's old world charm. The Kamogawa River store has a traditional wooden kawadoko-style veranda which stretches out over the water.
Starbucks Japan have been winning plaudits for their design skills for years. The Toyama Prefecture branch, which won the 2008 Store Design Awards for its glass-walled structure, was dubbed the world's most beautiful Starbucks. 
Reuse content