Tourists flock to the medieval city of Bruges to experience its fairytale charms, but visitors must pay a premium to indulge in its most famous food.
At least two chip sellers in the Flemish hotspot have admitted to charging visitors 10 per cent more for a serving of the snack, making the price of each portion more than €7 (£6.20).
Belgians are the world's biggest consumers of chips. Each eats an average of 75kg each year – a third more than fast food-loving Americans.
News of the overcharging came to light when a visitor asked Gauthier Gevaert, the owner of the Brugsch Friesthuys chip shop, for the price on his portion of frites to be reduced. Speaking to De Standaard newspaper Gevaert said: "Someone who clearly was not from here, demanded his discount.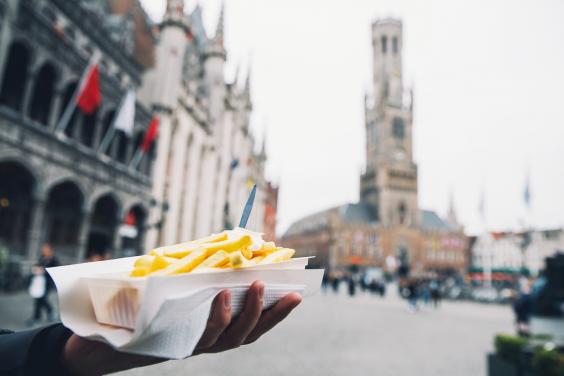 Two chip shops have admitted to the snack tax (Getty Images/iStockphoto)
"Look, I give discount to locals as customer loyalty. A day tourist from Antwerp or an American travelling through Europe who comes here once? The normal rate, sorry."
Gevaert asserts that it is not a price increase for visitors, but a discount for locals. He said: "Ten per cent discount in Bruges, yes, that is explicitly on the receipt."
"Why do we do that? For the regulars. We do not only aim at the mass tourism, but also building a relationship with whoever comes here often."
He added: "I'm not going to ask anyone for his passport. I can hear it if someone is from here: if you speak the dialect, it is good for me."
Locals also get reduced fries at Chez Vincent, another famous frituur. Philippe Thijs, an employee at the shop, told The Guardian: "It's just another button on the cash register. You have the normal price and the price for townspeople and students [which is minus 10 per cent]."
Belgium's consumer protection agency, the Federal Public Service Economy has said the practise is "perfectly legal" as customers are aware in advance of the practise and it does not discriminate on the grounds of race or religion.
Mayor of Bruges Renatt Landuyt supports the price difference, saying the cheaper chips make the city's 117,000 residents feel appreciated. "There are 6 million tourists here a year," he said. "That makes Bruges an expensive city. These small gestures are nice."
Reuse content