Turning off the A40 onto the single-track road leading to the sleepy village of South Leigh, deep in the Oxfordshire countryside, there's an immediate sense of getting away from it all. And that's what many Londoners and locals looking for a grown-up night away from the kids have been doing since the Artist Residence group of boutique hotels relaunched this thatched-roofed 16th-century limestone inn in May this year. 
This is the fourth hotel for owners Justin and Charlotte Salisbury – and, on the face of it, it's an anomaly in the group. Launched in 2008, Artist Residence have previously opened in louche, bohemian locations including Brighton, Penzance and a London backstreet near Victoria station. A fifth is due to open in Bristol next year.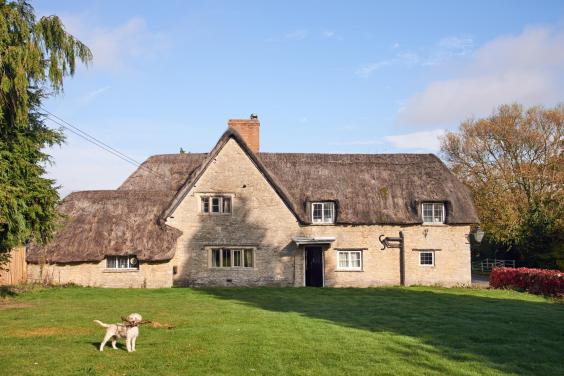 The hotel is in the beautiful Oxfordshire countryside (Artist Residence)
But this former farmhouse has history. Formerly known as Mr Stonhill's Most Individual Mason Arms, previous owner Gerry Stonhill hit the headlines when he was fined for flouting the anti-smoking laws – a maverick stance that may well have helped attract famous fans such as chefs Marco Pierre-White and Raymond Blanc. 
As soon as you walk through the door you know this is no ordinary country inn. Yes, there's a flagstoned floor, stone fireplace and bentwood chairs. But there's also a neon sign in the bar that reads "What Did I Do Last Night", while the lounge houses a large, mirrored cross studded with fairground lights – both artworks by Brighton-based artist Andy Doig. Meanwhile, pulp fiction-inspired artworks by the Connor Brothers pepper the Morris and Co floral-papered walls. 
The Artist Residence group has established a reputation for food and drink, particularly in Brighton, and Mr Hanbury's Dining Room will only enhance that. Chef Leon Smith's Michelin-starred background includes Restaurant Tom Aikens and Wild Honey in London and The Pony and Trap in Bristol, and it's evident in a tasting plate of nibbles that includes a miniature portion of fish and chips, the cod coated in a crispy and deeply-flavoured sourdough batter. 
There's nothing fiddly or fancy here, just hugely enjoyable dishes made with carefully prepared ingredients that are so local and seasonal that a rump of lamb comes from the neighbouring field and is served with delicately spicy bhajis made with courgettes from the hotel's own kitchen garden. If you're not up for the full three courses (and you really should be, because Smith is a name to watch), then grab a burger with triple-cooked chips from the bar menu. Smith even manages to make a bowl of house-made granola with yoghurt and fresh fruit served for breakfast a thing of beauty.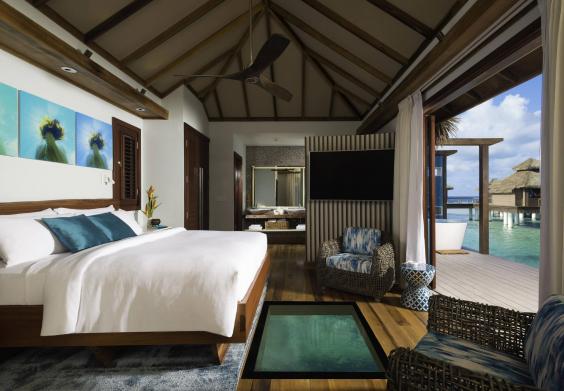 Walking over water: these bungalows merge cool design with a boho beach vibe
Location
The rural, well-to-do village of South Leigh is about 10 miles west of Oxford city centre. With a population of 336, a village hall and a church, you'll need to travel to nearby Witney for anything approaching nightlife. The nearest train station is Hanborough, a 15-minute taxi ride away, or Charlbury, 25 minutes from the hotel. Oxford, of course, is a beautiful place to visit.
Comfort
The five individually designed ensuite rooms are all built into the eaves of the building, so expect sloping ceilings and original beams. I stayed in the Farmhouse Suite, the largest of the five. Given the age of the building, the lack of air conditioning was no surprise but on a sweltering summer night it was disappointing to discover that fans for the rooms were still on order, a month after opening. 
Although the super-king bed was roomy and had a comfortable mattress, its ornate, Moroccan-style carved headboard banged against the wall with every fitful change of sleeping position. The high quality Volga linen sheets and duvet cover looked the part but weren't quite up to scratch, being tough on the skin and not as cooling as you'd think on a June night.  
I stayed within the first month of opening and teething problems were apparent. The capsule coffee machine was faulty and flooded the desk; the retro dial phone didn't work when I tried to call reception for help, and one of the back legs of the attractive antique two-seater sofa collapsed under me. Management response was impressive, however, with a well-made latte quickly delivered to my room and the coffee machine and sofa replaced while I was at dinner. I was assured the phone system would be looked at, though it was still faulty when I checked out. 
Architectural salvage stylings with reclaimed doors on the wardrobe and bathroom, a repurposed and distressed painted cabinet housing the minibar (stocked with Cotswolds Lager, Cider and Gin, Benson's soft drinks and Fever Tree mixers; a hamper of treats included Mr Trotter Pork Crackling and Rococo chocolates), antique wood-framed mirror and a freestanding copper bath added bags of character. In the bathroom, there was good water pressure in the large rainfall shower as well as organic Bramley bath products.   
The three Farmhouse Loft rooms (one of which can be set up as a twin room if required) are smaller but equally attractive with pitched ceilings, lead windows and wooden floorboards and also include super-king beds, rainfall showers, roll-top baths and either armchairs or a sofa. The cosy Rabbit Hole is the smallest room but still has enough space for a kingsize bed and compact shower room.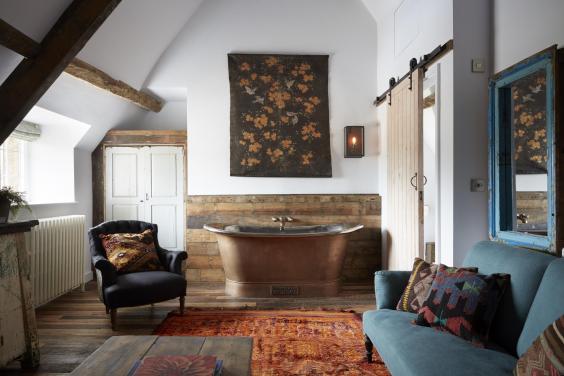 Rooms are livened up with things like freestanding copper baths (Artist Residence)
Work is underway to convert outbuildings into ground-floor, accessible and dog-friendly accommodation (including a three-bedroom family cottage) by the end of 2017, and there are plans for 'shepherd's huts' on an adjoining field that will also be used as an events space for proposed beer and live music festivals. If the Salisburys get their way, South Leigh will soon be just as louche and bohemian as all the other Artist Residence locations – and who wouldn't want that?  
Essentials
Station Road, South Leigh, Oxfordshire OX29 6XN (020 3198 1066; artistresidenceoxford.co.uk)  
Doubles from £130, B&B. 
Wifi: free
Parking: on site car park, free of charge
Pets: £20 charge per dog, per night. Dog bowl and treats included.
Access: N/A
Rooms: *** 
Service: **** 
Value: *** 
Reuse content